TAP to Set-Up the 1st Sino-Israeli Farm in Fujian, China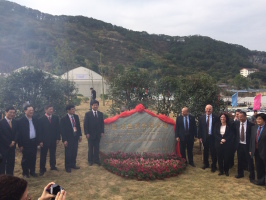 On November 27th, 2014 the 1st Sino-Israeli demonstration farm was established in Fuzhou City, Fujian Province, China. His Excellency, Israeli Minister of Economy, Mr. Naftali Bennett attended the ceremony accompanied by both Israeli and Chinese high-level leaders.
The goal of the farm is to set-up a state of the art technologically advanced farm in China which will be used as a platform for the Israeli companies in China and for the Chinese market to have access to clean, environmentally friendly, safe agriculture products. The farm includes the following companies: Auto Agronom, Agrotop, Dagan Automation, Galcon, Metzerplas, SCR, Teshuva Agriculture Projects (TAP). The project will benefit both nations and people's prosperity and quality of life by bringing Israel's top technology to China and raising the standards of agriculture produce in China.